Visia Software Ltd are the developers of the popular software system DPMS developed in 2007 primarily for Sexual Violence organisations
The latest version of the software runs via the web making it available for use in the office and on the go.
DPMS can be used on a variety of devices including desktop computers, laptops and tablets and smart phones.
The software is hosted in the UK using Microsofts highly regarded Azure service which is also used by the NHS and MOD.
DPMS is the most widely used system in Rape Crisis Organisations across England and Wales.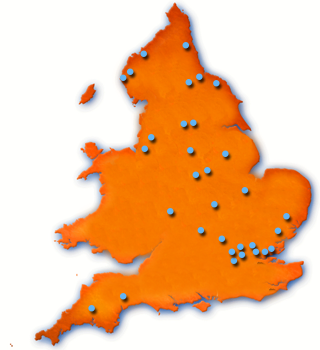 Support
DPMS support and training sessions can be delivered in a number of ways.
Software
DPMS Overview
DPMS is a cloud hosted service that has over a decade of development in close association with the Rape Crisis England and Wales and several prominent Rape Crisis organisations such as SERICC.
The system offers full end-to-end functionality, from initial contact by able to handle online bespoke referral forms that can be intergated into your website, to Report generation for monitoring data for internal or external use.
This flexibility is especially useful when it comes to providing information to the multitude of funders, all asking for different monitoring reports. DPMS has the ability to record multiple detailed incident and perpetrator data. It can record and report on criminal justice responses e.g. SARC, Forensic, Police and Courts.
Activities
An extremely wide range of activities can be recorded within the DPMS system, including non client related tasks and anonymous callers.
DPMS comes with over 4000 options in it's dropdown lists, and this can be extended on an individual agency basis to ensure that you are not restricted to our internal values.
Criminal Justice System
A great deal of Criminal Justice System information can be input into DPMS which includes the following:-
Incidents
Alleged Perpetrators
Police
Courts
Forensics
SARC
Customisation
DPMS is supplied with a wide range of Forms that can be used as supplied or you can extend the choices by requesting Forms to your own requirements.
A vast array of Reports are supplied with DPMS, but you're always welcome to request additional reports.
We're more than happy to integrate with your website by creating bespoke Online Referral Forms that have your colour scheme and logos to blend in seamlessly with your website.
Hosting
DPMS is hosted in the UK by Microsoft using their Azure hosting service. We have used the Azure service since 2014 and we have experienced great reliability during this time.
Each agency using DPMS has their own physically separate database to ensure maximum security and individual backup and restore capability. Backups are kept for up to 12 months.
Now available, the new DPMS!
In 2019, Visia began the development of a new version of DPMS that uses the latest technologies and includes many of the requests we have received over the years. The new DPMS is currently being installed for new DPMS users, and during Financial Year 2023 we will endeavour to transfer most existing DPMS users over to the new system in time for the new financial year in 2024.

The following new features are included in the new DPMS :-
Customisable Dashboards
Restructured Services section
Customisable Activity and Client screens
Enhanced Criminal Justice System section
Better presentation on phones and tablets
Multi factor authentication for additional security
Configuarable screen timeouts
Modern interface with integrated help
Ability to add and remove dropdown items
Pinnable Client Notes
...and much more!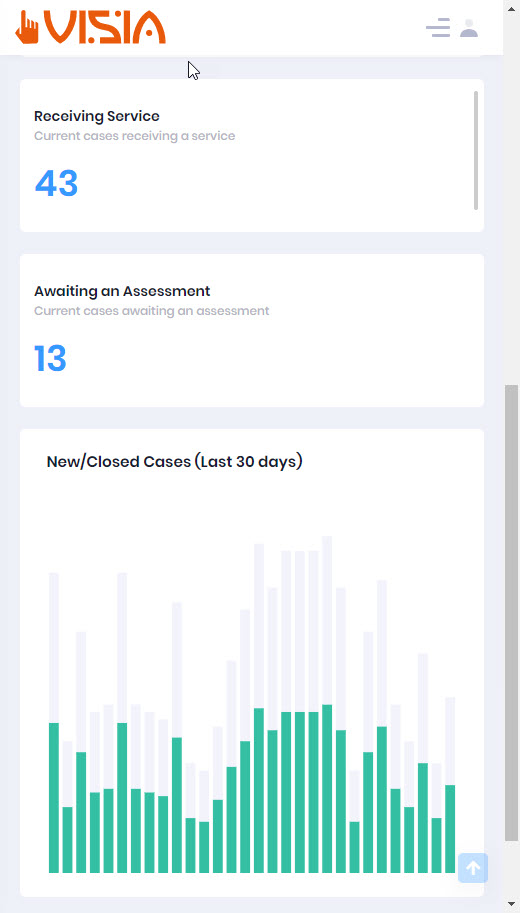 Testimonials
Here are some testimonials from organisations that have been kind enough to share with us their experience of using DPMS

SERICC has co-designed the sexual violence mode of DPMS with Visia over a long period of time. DPMS has coped the diverse funding requirements as well as recording the continuum of violence in women's lives.

Lee
SERICC

The system is very logical and user friendly and making the relevant changes to suit our centre is straight forward. The updates are made easy by following the instructions in the user manual, I have found overall support accessible and reliable.

Kasey
WRASAC

DPMS has revolutionized our waiting list, giving us an efficient way to access up to date, confidential information.

Laura
Rape Crisis South London

Without DPMS our last 4 funding applications would not have been successful. We have been able to analyse our service use and outcomes in an evidence based method.

Dawn
NRICC
Contact Us
At Visia, our primary method of contact is via email. Although we show a phone number below, this is to allow a voice message to be left with us so that we can respond once we have received the message.
Registration Address
Visia Software Ltd. P.O Box 6031, Leigh-on-sea, Essex. SS1 9RW